If you're not getting the results you want from your exercise routine, chances are you're making one of these three all-too-common mistakes.
You miss too many workouts because you don't have a plan B.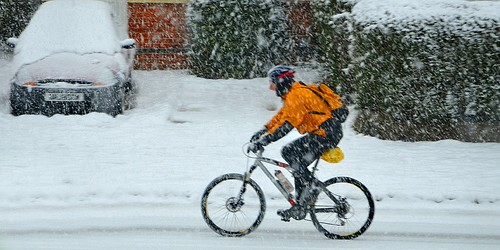 Intentions are only as good as your followthrough, so if you're not seeing results, chances are you're not working out as often as you planned. In my experience with personal training clients, most people who aren't intrinsically motivated to exercise miss their workouts because they don't make contingency plans, and the slightest obstacle becomes an excuse to skip a workout. If your primary cardio workout is a walk in the neighborhood, you need to be sure you have a backup plan for the torrential spring downpours or the January blizzard. Is biking your preferred cardio workout? What's your plan B for when you have an equipment failure? Cross-training in a variety of exercise modalities is not only good for your body, it gives you lots of backup options when your preferred workout isn't available to you.
You're not lifting weights.
If you think you're too old to lift weights or you're a woman who's worried that lifting weights will make you bulky and manly, please think again! The older you get, the more important resistance training becomes. If you're not actively working to build your muscles, you can count on losing a half pound of muscle every year of your adult life. Besides helping you manage the activities of daily living (like opening the doors at the bank or getting on and off the toilet independently), muscles help you maintain a healthy weight and an active metabolism. And ladies, unless you have a dramatic hormonal imbalance or you're taking illegal steroids, weight lifting will not make you bulky. It will make you lean, trim, toned and strong.
You're not including intervals in your cardio routine.
Running, biking, swimming, walking. They're all great exercise for keeping your heart and lungs in good condition. But if you work out at the same steady-state pace every time, you're unlikely to make much progress. With interval training, you alternate short bursts of high-intensity exertion with lower-intensity recovery periods. It's a highly efficient way to expand your abilities beyond your current levels. Even if you don't aspire to be a competitive athlete, your body will benefit from the added challenge of interval training. Just remember that "high intensity" is a relative term, so if you're currently a walker, don't start off with full-out sprinting intervals.
Tackle these three common exercise mistakes one at a time if your workouts aren't getting you the results you want.