What is Feel-Good Fitness?
Feel-good fitness is personal fitness training that is appropriate for your age, your abilities and your interests. It makes you feel energized, confident and capable. Feel-good fitness is a set of wellness habits that stick with you for the rest of your life. Feel-good fitness helps you make today, and every day, the prime of your life.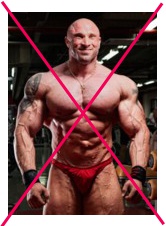 (not feel-good fitness)
If you can't see yourself fitting in with the hard-core bodybuilders at your local gym, and if a boot camp led by a screaming drill instructor is not your idea of fun, you've come to the right place.
At Prime of Life Fitness, we specialize in helping adults develop and maintain exercise and diet habits that will help them age gracefully and vibrantly. You'll get thorough instruction on how to perform exercises safely, with correct form, and at the appropriate intensity for your ability.
Our convenient, in-home personal training gives you the personal attention you need to meet your fitness goals. And our couple and small-group training gives you a fun and affordable way to combine personalized fitness training and enjoyable, quality time with a spouse or friend.
If you're already a dedicated exerciser and don't need a trainer to coach your workouts, the Prime of Life Fitness Over 40 Blog and resources will keep you up to date on current trends in nutrition and exercise.
According to the World Health Organization*, regular physical activity:
Promotes psychological well-being and reduces stress, anxiety and feelings of depression and loneliness
Helps build and maintain healthy bones, muscles and joints, and makes people with chronic, disabling conditions improve their stamina
Can help in the management of painful conditions, like back pain or knee pain
Improves balance, strength, coordination, flexibility and endurance
Improves feelings of self-confidence and self-sufficiency.
Now that's feel-good fitness!
*World Health Organization Fact Sheets http://www.who.int/world-health-day/previous/2002/facts/en/index.html