When I meet people for the first time, they're often intrigued by my work as a personal trainer, and if they've never worked with a personal trainer before, they often wonder what makes the experience so special. Some people like working with a personal trainer because it adds an extra measure of accountability, and some like working with a personal trainer because they get more interesting and varied workouts than they would on their own. But what I love about personal training is that it's personal; that is, it's a fitness program designed just for you, your abilities, your needs and your goals.
That's why the first session with a client is so important; it's where we truly put the "personal" in personal training. A first session with me includes these three important components.
1. Health History. The health history is a simple questionnaire that asks you about any health or medical conditions that could influence your ability to exercise safely. I need to know if you have any joint or muscle issues, heart or lung conditions, metabolic disorders or recent surgeries or illnesses. Any medications or supplements you're taking could alter your response to physical exertion, so I need to know about those before we begin. This information helps me determine your risk factors and helps me develop an exercise program that is safe and effective for you. If necessary, I may refer you to a physician or physical therapist based on your health history.
2. Exercise History. The exercise history questionnaire and interview helps me get to know your activity level and physical capabilities and how they have changed over the course of your life. This questionnaire also helps me understand your emotional response to exercise and nutrition and some of your motivators. Using the exercise history, you and I will zero in on your top fitness goals. Your answers will help me design a program that will be enjoyable for you and will help you meet your fitness goals more effectively. Learning about your exercise history helps me find the sweet spot where we can challenge you to exceed your current abilities without discouraging you or hurting you.
3. Posture and Movement Assessment.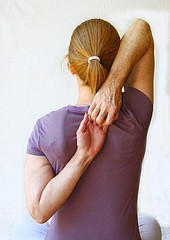 The posture and movement assessment helps me see your body's current movement patterns and biomechanics so I can address any weaknesses or imbalances right from the start. We'll walk through a series of postures and movements of various joints so I can check for range of motion, joint impingements, pain, or muscle imbalances. I'll take pictures and videos so you can see for yourself what I see. By the time most of us reach our forties and beyond, our bodies tell the story of our lives with surprising candor. I can tell a lot about your job and your sleeping habits just by your posture and movements! I have yet to meet a client who didn't require some form of remedial or rehabilitative exercise to correct a posture deviation or muscle imbalance.
If you've had trouble with exercise programs in the past, it's often because you've chosen the wrong starting line, and you've become discouraged after the first few sessions. The initial session of your personal training program lets me determine the right starting line and the right pace for you, so you don't get discouraged but you do make tangible progress toward your goals. To me, that's the real power of personal training: we design the program that works with your abilities (not in spite of them) and that takes you toward your own goals at a pace that you can learn to sustain for a lifetime.
(photo credit: Liz West)