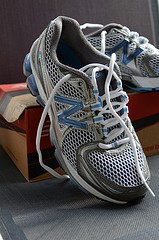 Are you getting enough exercise, and the right kinds of exercise? Almost any type and quantity of activity is better than sitting, but if you want to maximize your health, be sure you're getting enough daily exercise, and the right kinds of exercise. The American College of Sports Medicine released a new position paper this week that makes exercise recommendations for generally healthy adults based on the best current scientific evidence.
"The scientific evidence we reviewed is indisputable," said Carol Ewing Garber, Ph.D., FAHA, FACSM, chair of the writing committee. "When it comes to exercise, the benefits far outweigh the risks. A program of regular exercise – beyond activities of daily living – is essential for most adults."
Here are the basic findings of the ACSM's position:
Cardiovascular Exercise
Get 150 minutes of moderate intensity exercise per week.
Accumulate your 150 minutes through 30-60 minutes of moderate activity on five days per week or 20-60 minutes of vigorous intensity activity on three days per week.
Build up to those times gradually to increase the odds you'll stick with it.
You don't have to do all 30 minutes at one time. You can also accumulate a series of shorter, 10-minute sessions each day.
Resistance Exercise (Weight Training)
Train each major muscle group two to three days per week.
Do two to four sets of each exercise.
Allow for 48 hours of rest before you repeat resistance training.
Choose appropriate weights for you

To build strength, choose a weight you can lift 8-12 repetitions with good form (10-15 repetitions if you're middle-aged or just starting to exercise).
To build endurance, choose a weight you can lift 15-20 repetitions with good form.

Older persons and previously sedentary adults should begin with very light or light weights and build up strength progressively.
Flexibility Exercise
Include flexibility exercises at least two or three days per week to maintain and improve range of motion at the joints.
Hold each stretch 10-30 seconds, just to the point of tightness. Repeat each stretch 2-4 times to accumulate a total of 60 seconds in the stretched position.
Flexibility exercises are safest and most effective when the muscles are warm, so stretch after your other exercises, not before.
Neuromotor Exercise
Include functional fitness training 2-3 times per week.
Neuromotor exercise should include balance, agility, coordination and gait training. You can try specific balance and agility exercises or multifaceted activities like tai chi or yoga.
Neuromotor exercise is especially beneficial to improve physical function and prevent falls in older adults.
20-30 minutes per day provides the benefit you need.
You can read the full recommendations here: http://journals.lww.com/acsm-msse/Fulltext/2011/07000/Quantity_and_Quality_of_Exercise_for_Developing.26.aspx.
So, the question now is, how does your exercise program stack up? Are you getting the recommended quantity and quality of exercise each week?
 (photo credit: slgckgc)