"Sign me up for assisted living! I can't wait to give up my home, move to an institution and say goodbye to my privacy and independence." You're not likely to hear any older adults saying those words any time soon!
We all want to stay in our homes and retain our independence and autonomy as long as possible.
For many older adults, the ability to remain independent is closely tied to maintaining the physical abilities needed to perform the activities of daily living. A loss of strength, flexibility or balance can quickly lead to a loss of independence.
A new service from Prime of Life Fitness can help you evaluate your (or your aging parents') fitness and balance capabilities with an eye toward keeping you fit and healthy for the long run.
The Senior Fitness and Balance Assessment uses research-based measurement tools to thoroughly assess older adults' physical fitness and balance abilities. This in-home assessment measures the subject's
upper and lower body strength,
upper and lower body flexibility,
aerobic fitness,
agility, and
dynamic and static balance.
Designed for ages 60 and up, the assessment requires approximately 1.5 - 2 hours and is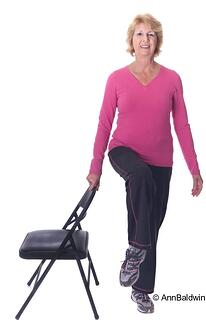 performed in your home. Prime of Life Fitness owner and certified Senior Fitness Specialist LeeAnn Langdon provides the tools and equipment needed to perform the assessment.
As part of the assessment process, subjects receive a report that compares the subject's performance to age-bracketed norms as determined in research studies. Each report includes suggested actions to bring the subject into the norms for his or her age bracket.
This assessment is available by appointment only within the Denver metro area. For more information or to schedule an appointment, click or call.