As the Baby Boom generation ages, one thing is certain: memory loss, dementia, Alzheimer's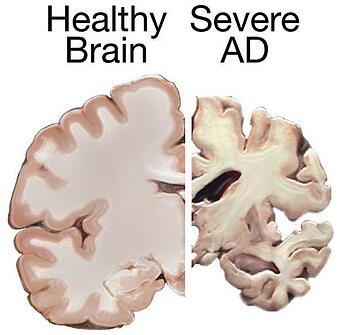 disease and related conditions will become the focus of a great deal of attention in American society. According to the Alzheimer's Association, 5.4 million Americans are currently living with Alzheimer's disease, and by 2050 as many as 16 million Americans are projected to have the disease.
There is currently no cure for Alzheimer's disease, only a few treatments to lessen or delay symptoms, and no definitive guidelines for how to prevent the disease. That said, if you ask researchers what they recommend, almost all will tell you to stay active, both physically and mentally. If you have a loved one with memory loss, these six tips will help you plan an exercise program to keep them healthy and strong.
1. What's Good for the Heart is Good for the Brain. Exercise that elevates the heart rate, like walking, or even house and yard work, increases circulation throughout the body and the brain. The brain benefits from an increased supply of oxygen and other nutrients in the blood. At least 30 minutes per day of moderate aerobic exercise is a good start.
2. Keep it Regular. A regular routine becomes more and more important for a loved one with memory loss. As memory loss makes familiar places and faces seem unfamiliar, a routine can be comforting. Schedule exercise sessions at the same time each day.
3. Simple Makes Sense. Exercise doesn't have to be complicated to be effective, and for a person with memory loss, simple exercises allow for feelings of self-efficacy and success. Instead of multi-joint and multi-planar movements, focus on simple movements that are easy to mimic and follow.
4. Make it Fun. An exercise program that includes something you love is an exercise program you'll stick with. The same is true for your loved one with memory loss. Choose music that they like to listen to, walk in a favorite park, or tackle some chores in the garden. Anything that conjures happy memories will make the workouts more fun.
5. Safety First. As memory loss progresses, activities that were once safe will become a challenge. A walk in the park might require a buddy, driving to the pool may be out of the question, and the machines at the gym may become confusing and dangerous. A personal trainer can design an exercise program that can be held in the safety and comfort of the home.
6. A Healthy Patient is Good for the Caregiver. If you're a caregiver for an Alzheimer's patient, you know that small actions can require massive efforts. Sometimes getting your loved one to exercise seems like it's not worth the effort. But a healthy, strong, mobile patient is easier to care for in the long run. Most caregivers find that exercise improves the mood of their charges and is well worth the effort.
Whether you're working to prevent your own memory loss, or helping a loved one deal with current memory loss symptoms, know that regular moderate exercise is your best bet. A few common-sense tips can help you get the results you're looking for with the least stress.
(photo credit: By National Institutes of Health [Public domain], via Wikimedia Commons)