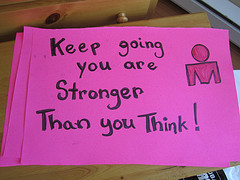 It's easy to stick with your new exercise program for a week or two at the beginning of the year, but how do you get motivated to exercise once the shiny glow of the New Year has worn off? All that resolve you promised yourself in January is hard to hold on to during the cold, dark days of February. If you're already finding your resolution to exercise regularly is on the back burner, these tips to stay motivated may help you get back on track.
1. Remember why you decided to exercise in the first place. Maybe you've gained a few pounds that are making you feel lethargic. Maybe you've had a health scare like high blood pressure, osteoporosis or diabetes, and your doctor recommended exercise. Or maybe you want to have enough energy to keep up with your grandkids. Whatever your reason, keeping your eye on the "why" can help you stay motivated to exercise.
2. Reframe your resolution in terms of want rather than should. Which is more compelling: "I should lose 15 pounds so I won't be the 'fat mom' at my daughter's wedding," or "I want to look as great as I feel when I watch my beautiful daughter tie the knot." How about "My doctor said I should exercise or I'll have to begin taking insulin," or "I want to control my blood sugar and feel my best every day." Anytime you can describe your goal in terms of what you want rather than what you think you should do, you'll be more likely to stick with the program.
3. Mix it up. Putting your workouts on autopilot can be a good idea if it helps you make it a habit that's as much a part of your day as brushing your teeth or brewing your morning coffee. But if you're already bored of the same old workout, by all means, mix it up! Instead of walking on a treadmill, take a hike; instead of endless miles on a bike, go dancing. Anything that elevates your heart rate and gets your body moving is a good thing, so feel free to experiment.
4. Celebrate every success. Your goal may be to train for and complete a 10K race by the end of the year. But that's no small challenge, so be sure you take it a mile at a time, and give yourself credit for every mile you achieve. And remember that success is not an all or nothing proposition. If you start the year not able to run at all and end the year able to sustain a five-mile run, does that make you a failure just because your goal was to run 6.2 miles? Not in my book! Give yourself credit for how far you've come and use the momentum to keep going. If you're new to exercise altogether, you get credit for every workout you accomplish. Build the exercise habit first, then start to work on specific goals.
5. Make it easy. I can't stress this enough. Your life is complicated already. If your exercise program makes it more complicated, you're unlikely to stick with it. If going to the gym adds 30 minutes of commute time to your day (on top of the workout), you'll have no trouble coming up with excuses to skip it. So maybe walking around the block during your lunch break is an easier option. If washing your gym clothes between trips to the gym is getting you down, get enough outfits that you can wash them all once on the weekend. Manage the logistics of your workouts so they are easy to achieve and hard to skip.
6. Enlist help. A workout buddy can keep you motivated and on track. A personal trainer can teach you proper form and technique and can give you the accountability you need to be successful. Or you may find help online: activity tracking software, discussion boards and interactive communities are just a few online resources that can keep you on track. Most important, don't feel like you have to go it alone. If you are having trouble staying motivated to exercise, get help wherever you can find it.
Your New Year's resolution doesn't have to be just another empty promise. If you keep an eye on these tips for how to stay motivated to exercise after the novelty has worn off, you'll have more success than you imagined was possible.
Do you have favorite tricks to keep yourself on track with your exercise program? Share your secrets in the comments.
(photo credit: Dawn - Pink Chick)